CRYSTAL Bare Galvalume Steel Coating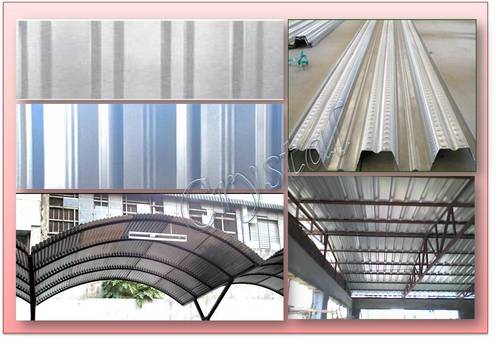 CRYSTAL Bare Galvalume Steel Coating
Product Description
Bare Galvalume Steel Coating

The GALVALUME steel coating is applied on steel sheet and provides a perfect combination of sacrificial protection of zinc and barrier erosion security of aluminum. Hence, this coating has benefits of both elements and so this is a long lasting coating which delivers outstanding performance along the sheared edges.

378608

Industrial FRP Rain Water Gutter System

These gutters are mainly designed and overdeveloped for Industrial Sheds Roofing so that rainwater can be drained out systematically, meeting the requirements of Civil Engineering.

Application of Gutter

Eaves Gutter
Valley Gutter

Advantages of Composite Fibreglass Rainwater Gutter

Crystalight Fibreglass Gutters are perfect alternative to gutters made of A.C, Mild Steel / Galvanized Iron. The FRP gutters have the features of erosion resistance, rusting resistance, absence of shattering, leaking and cracking.

Technical Specifications

Customized size, shape, thickness and color
Thickness range is 3.0mm to 5.0mm and guarantee for five years
Turnkey projects are accepted for fixing and installation
Erection will be done with required Slope to easily drain out the rainwater
Ability to bear the load of 2-3 men per running meter
Has mild steel suspenders which provide support at every 500mm to 1000mm
500.00 Rn.Mtr. Can be manufactured and dispatched as per the requirements
Test Certificates: Density/Module/Tensile From Cipet.